About Us
Forty-Eight years ago, in the perspective of educational traditions of Ujjaiyni, Shripal Education Society and Bhartiya Gyanpeeth started a new age of excellent education facilty for the students on a primary level. With the combination of ancient and modern education the institute laid a new dimension by the expansion of middle and higher- secondary classes only in order to keep the aim infront i.e. to make the students well - cultured.Ancient educational traditions of Ujjaiyni and we felt that in literate, educated, civilised and cultuared women have the capability to build the nation. On this thought the management also experienced that in Ujjain there is lack of an environment for higher education of girls of the professional courses of computer, science, therefore, determination has been taken to set-up a new college which genuinely only for girls and for the fulfillment of this task, Bhartiya Institute of professional studies established by this very institution and as it was presenting the unique gift to city by starting the syllabus of B.C.A. for the first time in Ujjain. After this the institute has started various professional and job-oriented courses. The field of education has forwarded one step more after the establishment of Bhartiya College in 1996 for the students of commerce, science and art. Today Bhartiya college has been regarded as an ideal institution and become the first choice of girls only for its experienced faculty and the standeard sources. The institution gave an important gift to the city in the field of fashion technology and started Bhartiya Institute of Fashion Technology, in 2008, where the students after taking admission in the advanced syllabus of fashion and interior and are giving the new way to their future. Bhartiya Boutique which has been organised by this institution has also got the recognition in city in a little period. The institution is conducting not only the syllabus of graduation and post- graduation but also the various job-orientaled and professional syllabus. This credit goes to the honest and hardworking teachers professors and those guardians whose belief has been fulfilled by the institution
Management and Organisation
In the perfect management of renowned uplifter, social thinker, philosopher and most preferable addresser Shri Krishnamangal Singh Kulshreshtha the institution has achieved the starring position. In the addition the institution has been getting the guidance to the famous scholars and social reformers. Padam Bhushan late Dr. Shivmangal Singh Suman gave continuous love and affinity to the institution. The institution also got continuous regards and blessing from Late Nirmala Deshpandey, Dr.Shri S.N.Subbarao,Baba Amte,Shri Narendra Bhai, Sushri Medha Patkar, Shir Tushar Gandhi, Shri Prabhash Joshi and Sushri Madhu Kishwar. Shri Amritlal Jain, Shri Divakar Natu, Dr. Rekha Gawarikar, Dr. Lokesh Agrawal, Dr. Rakesh Dund, Dr. Gopal Krishna Sharma and Dr. Harish Vyas also like the educationalists and scholars guide the students time to time on various occasions.
AIMS
1. In addition to educational development we nurture cultural, literary and sports talent of the students.
2. To develop cultural, civilized and sports related genius To inspire students towards self-dependence through job oriented courses.
3. To impart human value based education to develop them into an ideal citizen so that feeling of responsibility towards family, society and the nation may induce in them.
4. To prepare students for various national and international competitions.
Chairman's Message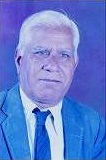 It is the outcome of faith and affection only of all the guardians that today this institution has included not only in the city but leading institutuons of the state. Forty five years ago while planting the seed of this institution I imagined that an ideal institution for the students is now accomplished in a efficient manner which is only possible by the devoted teachers, lecturers and students of the institute. After conducting the syllabus of various faculty from nursury to post-graduation today Bharti-Gyanpeeth has become the priority for the students. The continuous outstanding results of board exams and also the increasing number of students in the merit-list of university is being only shown the speciality of the institution. This institution has been conducting without any government or private aid. The organization of this institution is a mission for me through which I am performing the duties towards the society. Besides the courses such as art, commerce, computer, science the college has also been organising the other courses like fashion technology, interior - designing etc. Probably this is one of the unique institutions of the state where parents are satisfied after being the admission of their three years girl child from nursury to the post-graduation. Not only this rather many girls after completing their education here but also participate in sponsored campus interview and after getting placement they make their bright future. The students of this institution make their identity not only on the national level but also on international level. May this journey of success will be continued, it's my only attempt and wish.